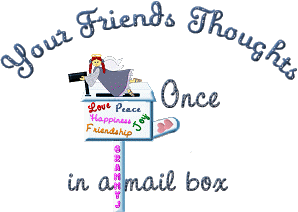 What a fabulous idea!! GrammyJ's emails have brought many smiles to my face, and some of them made me sit and think for a while. :)
Annette

It's a nice and perfect idea to make a special project for Grammy J. She is my special friend and I am very much proud of her.
Arthur

I am soooooo glad you have created this special tribute for Grammy J. She has been a Special Friend to me for several months now and I can't even begin to tell you how much it has means to me. You see, my husband is a truck driver and he is on the road for 3-4 weeks at a time and only comes home for 2-3 days each month. It gets pretty lonely. Grammy J adds sunshine and smiles to my days. :o) Your story about Maily pretty much sums up my feelings.
Michele S.

I peeked at the pages, what a wonderful idea! They're so cute, and she is so
deserving. I'm glad to see this.
Jus Kuntree

GrammyJ is so sweet and thoughtful so I could not let this opportunity go by.
Grammajan

Here is my gift for my wonderful friend and ray of light, Grammy J!
Ladyemd

She is a darling and deserves all the credit she can get.....
Maralyn

This is such a wonderful idea to show Grammy J just how much we all love and appreciate her. She always takes the time to send such beautiful poems and graphics to me.
She is indeed a very special angel given to all of us here in the garden.
Love You GrammyJ
Sugie

What a cute and lovely idea, I LOVE the story. I am sure she will be thrilled with the effort everyone has made. GrammyJ sure does take care of us in a SPECIAL way.
Grammajan

Thanks for putting this together for us!
Jamie